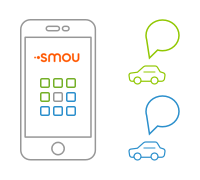 Do you use AREA's Blue or Green parking spaces for park?
smou is the Barcelona app that helps you to get around, providing Access to information and services to make it easy for you to move around the city.
If you use AREA's Blue or Green parking spaces for park, you can use the service Parking meter on the app smou to enjoy all the benefits of payment with your mobile phone. We have created this flexible and convenient system with you in mind. There's no waiting either because you don't need to use a parking meter. You only pay for the time you use.
The smou app is available now for IOS and Android. Simply download our free app to your smartphone. Then, you simply need to register and create a user account to start using it right away as if it were your very own parking meter.
There are two types of account

Individual
For private users with one or more vehicles in their household.

Company account
For companies that lets you manage parking operations and make payments for parking in AREA Blue and Grees parking spaces for a fleet of vehicles used by your staff, such as a technical sales team, subject to authorisation by a company administrator who must register all users and vehicles.